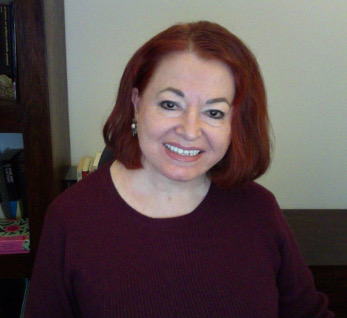 Elizabeth
I am from Canada, and I have been teaching languages for many years. If you want to know more about my professional career, click here.
I had the idea to create Real Spanish because of my own experience learning Spanish. I had been studying in Spanish classes for many hours, but when I arrived in Spain, I often felt very frustrated because I didn't understand what people were saying, and I found it very difficult to express myself. I started watching movies and TV shows online, making good use of the back button, and subtitles in English or Spanish - although I was puzzled that the subtitles often did not match what I was hearing! At Real Spanish we have solved that problem.
I enjoyed learning because the material was so fun and informative. I improved my vocabulary, and learned a lot of new words and phrases. At the same time, I learned a lot about the history and culture of Spain, as well as other Spanish-speaking countries.
I realised that this method could also help many other people, so, with the help of Gema, I started to develop scripts for the virtual lessons, based on film and TV clips. Over time, we fine-tuned the concept, and began working online with professionals from various countries to create the video lessons. It has been a great experience - a whole new way of working for me. I hope you enjoy Real Spanish as much as I have enjoyed creating the lessons.
If you'd like to learn more about how I got the idea for Real Spanish, see the video below.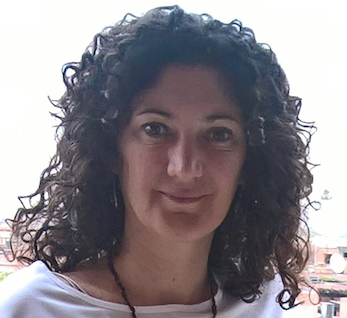 Gema
I am Spanish. I live in England but I also spend a lot of time in Spain. I have been teaching Spanish for many years; I have worked as a Spanish teacher in countries such as China and Indiaand in a secondary school in Englan. But for the last six years I have been focusing on teaching online, by video conference. That's how I met Elizabeth, who proposed this idea of Real Spanish to me.
I am also the head of studies for the online teaching department at Spanish Express, which offers different Spanish programmes and courses. You can see them here.
In Real Spanish I correct the written part in Spanish, I also help to create the teaching materials and grammar sheets. I make and/or correct the transcriptions of the videos so that the subtitles match. I help Elizabeth decide which expressions and vocabulary can be helpful to students, as some expressions are more commonly used in Spanish than others, and we want to teach a modern Spanish that is spoken in the street, not in the material manipulated in the books.
Most of my students feel that they have spent many hours studying Spanish and yet are unable to understand the native speakers well. Many ask me what they can do to improve their oral expression and comprehension, because they are tired of the typical and repetitive teaching materials. I believe that Real Spanish will help many students to learn in a more fun way with current and very varied topics. I am sure you will like it.
You'll soon be able to book private online classes with me on Real Spanish: stay tuned!
Carol
I have more than 30 years of international business experience. A few years ago, I moved to Barcelona, where I taught business English. I then combined these two fields, and established my own teaching business, Pinfield English Services, where we focused on intensive business English courses working closely with businesses in Barcelona. You can see more information here.
Since the pandemic I have restarted my coaching business on line due to great demand providing business and personal one to one coaching as The Change Champion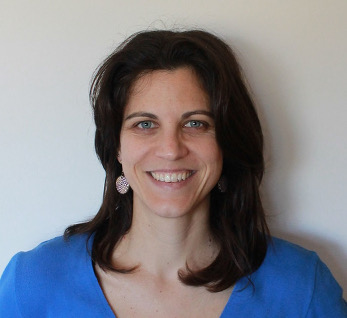 Alexandra
I am passionate about Spanish pronunciation. If you are reading these lines you have probably dreamt of participating in a conversation in Spanish with confidence. The same has happened to me with the different languages I have learned. Thanks to these frustrations and that of language teaching, I have learned that knowing how to pronounce is one of the keys to success.
I began my professional career teaching Spanish to foreigners in countries such as Spain, Austria, Turkey, Hungary and China, and it was during those years that I became aware of the need for both teachers and students to learn pronunciation in order to improve oral communication. Therefore, I have been specializing in phonetics, and since I returned to Spain (my home country) I help people like you to understand and speak Spanish more effectively, through online pronunciation classes, and specialized materials.
If you want to know more about my work you can take a look here.
I was very lucky to meet Elizabeth in my pronunciation classes, where I enjoyed helping her learn small-big elements of phonetics that made it difficult for her to understand conversational Spanish, and gave her a foreign accent. Now I'm delighted to be able to collaborate with Real Spanish, and help people like you learn the same secrets of effective oral communication.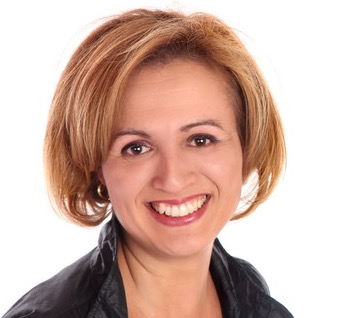 Marta B.
I am from Madrid, although I have always considered myself a citizen of the world. I love languages, music and cinema. After many years working as a translator and subtitler of films, series and documentaries, I started to educate my voice, and to combine my translation work with voiceovers of all kinds, although focusing on audio descriptions (for the blind) and online courses. If you want to know more about my work, click here.
When I met Elizabeth I loved her project, and I am delighted to be part of the Real Spanish team, and to continue learning and analysing my mother tongue, while contributing with my voice to spread it among the users of the platform. I am Carmen's voice.
The Real Spanish method is entertaining, and a real Spanish is taught, one that is spoken in the street and in everyday life. At Real Spanish, I am the voice of Carmen.
Salvador
I'm from Spain, and I have a degree in Text Interpretation from the RESAD (Royal School of Dramatic Art in Madrid). I have participated in several theatre festivals in different parts of Spain. After graduating, in 2012, I formed, together with my colleagues in Dramaturgy and Direction at the RESAD, the Company of Mr. Smith, a collective of artists from different disciplines, such as dance, dramaturgy or plastic and performing arts, whose aim is to tell new stories using a current language, and a contemporary perspective through creative projects.
At the same time, I continue my training with acting in front of the camera, at the University of Navarra UNIR, and with monographs with different stage directors.
At present, I combine my theatrical activity with my work as an announcer, giving voice to different fiction and audio book projects. In Real Spanish, I am the voice of Juan.
I work as a professional voice artist. I did my training in the Escuela de Doblaje de Madrid with the best professionals in the field. There I completed general courses in dubbing, as well as specialist courses in video-games and audiobooks. I have a degree in Audiovisual Communication from the Universidad Complutense de Madrid, which helped me to become familiar with all technological and artistic aspects of the medium in which I now work. I also trained as an actor in the prestigious Estudio Corazza para el Actor.
I've always been passionate about cinema, so as well as being a devoted viewer of movies and TV series, I also have an interest in in the technical and artistic aspects of directing and photography. In this area I comleted a Master's degree in photography at EFTI.
My professional goals in audiovisual production are focused on dubbing and professional voiceover work. Right now I work mainly in the narration of audiobooks. You can see some of my projects here.
I am from Spain, and have studied acting and performance at the ESAD de Málaga (Escuela Superior de Arte Dramático), where I got a Matrícula de Honor in my final project. In the performing arts world, what I like most is acting (especially classical Spanish theatre, in verse) and dubbing. For this reason, when I completed my studies, I came to Madrid to form part of a theatre company and to get training in dubbing at EDM (Escuela de Doblaje de Madrid). In the future, I hope all this hard work will bear fruit and I can realize my dream of working as an actor and director of dubbing. And, in addition to all this, you can see me from time to time here on Real Spanish, helping all the students who want to improve their Spanish with us!
In addition to having a degree from RESAD (Real Escuela Superior de Arte Dramático), I have trained in dubbing and voice over at the Luisa Ezquerra School and EDM (Escuela de Doblaje de Madrid). I have written, starred in and composed children's musicals and have participated in various children's shows such as the musical "Princesa 2.0" with the theater company Zapatos de Papel. I have produced and performed one of the leading roles in the musical "Conciencia de Trapo". I have participated in the Forqué and Platino awards ceremonies, which were broadcast by RTVE. In addition, I have starred in and composed the song for the short film "El Plato Principal" by Miguel Tresguerres and participated in the film "La Mujer que hablaba con los Muertos" by Cesar del Álamo.
My voice can be heard in some commercial spots like Securitas Direct, Blabacar and in some series and movies. The latest Netflix movie, "Arlo, the alligator boy" and the "NCIS Los Angeles" series.
Currently, in addition to continuing to work on a multimedia project for children's musicals, I am part of the cast of "Una Rana en la Luna", also of "Zapatos de Papel". I am the presenter of the "Kids Rock Family" concerts, as well as being one of the singers of the female duo 'Las Dos en Punto'.
Hi! I was born and raised in Madrid, Spain. When I was a child and naïve I thought that I would never need other languages in my life. I studied aeronautical engineering and discovered how wrong I was and how important they are in this small town we call World. Because of my job I have lived in Germany, the UK and France, taking the opportunity to learn not only German, English and French, but also the culture, life style and their peculiarities. All these things can change your life for better and for ever.
Some years later, I decided to study my other great passion, dubbing. So I began to take acting and voice classes. I also took theater lessons for several years, having the chance to perform in some of the best stages in the capital. After that came my first calls for dubbing in several TV shows and since then I have been working to make this great fire bigger!!!.
Like life itself, this is a never-ending learning process. And in this search for improvement, I met Marta B., Elizabeth and Real Spanish. What a great opportunity to combine all together, English, Spanish and acting!!! I really hope you enjoy it, learn and grow!!!"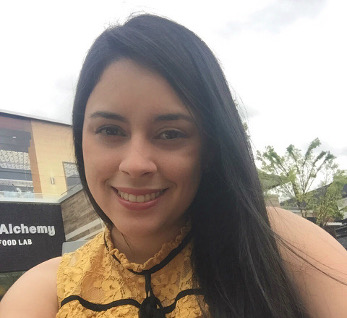 Ariana
I am Venezuelan, and I live in Texas, United States, where I develop my work as a graphic designer. Since I was a child I always felt a great attraction for the audiovisual world, so I decided to start educating myself, take classes, and different courses that would help me to be a professional in this field. A complicated world, but in which every day is a new challenge, and that amuses me and motivates me to continue learning day by day.
I feel very fortunate to work in what I am passionate about, animations, video and sound editing, image design, etc. I have been working for many years for companies and individuals from various parts of the world.
Currently, I am part of the creative team of Real Spanish; I have had the honor of collaborating in this project since its inception, in the area of audio and video editing of the different lessons.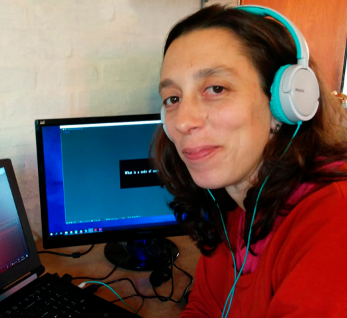 Natalia
I am from Buenos Aires, Argentina. I studied Image and Sound Design at the University of Buenos Aires. I worked in the film industry since I was very young. To tell the truth, my first job was to show films in some cinemas in the Abasto neighbourhood, and there I met a well-known film director at the premiere of one of his films. Thanks to him, I got in touch with many people in the industry and quickly began to work in advertising and film production companies.
There I learned the direction and camera assistance business; after several years, I decided to dedicate myself specifically to the edition and postproduction of film and video and that is what I have been doing for about 10 years now. At Real Spanish I make the animated videos of the lessons and put the subtitles on the TV and film clips.
Interview with Elizabeth Coelho:
How I got the idea for Real Spanish
Iglika Nikolova-Stoupak interviews Elizabeth about how she got the idea for Real Spanish, and about plans for future development of the project. Iglike has an eclectic interest in language and language learning.
Iglika and her husband Alex Stoupak have their own channel, Monoglossia, where you can find videos on a wide variety of language topics; you may find us popping up on each other's channels from time to time. If you are interested in language and languages, take a look!
Monoglossia: https://www.youtube.com/watch?v=uiO8KoDggZA
You can read another interview with Elizabeth on LearnOutLive.com