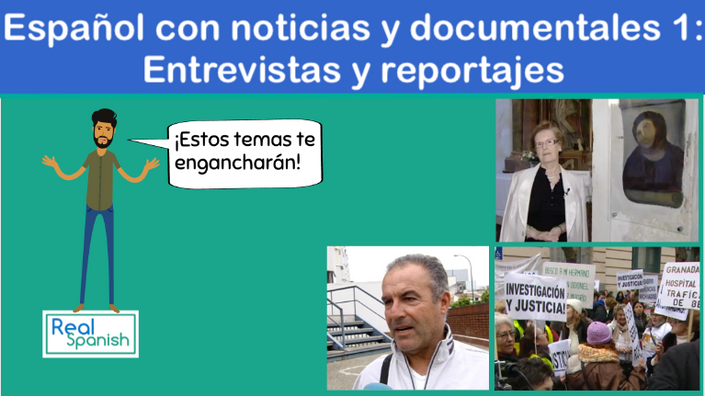 Español con noticias y documentales 1: Entrevistas y reportajes
The content of some of these lessons will amuse, surprise, or even shock you!
(Spanish below)

This course is a collection of 5 individual lessons based on clips from television news programs. Topics include a scandal dating from the Franco era, Spain's artistic and cultural heritage, the repopulation of rural Spain, and the reasons for the long workday in Spain.
Each lesson consists of the following components:
Presentación (video): The virtual teacher explains the context and some key vocabulary and expressions to help you understand the clip


Prueba rápida based on the content of the presentation

Clip subtitled in English

Clip subtitled in Spanish

Clip without subtitles

Conclusion (video): The virtual teacher wraps up the lesson, reviewing key points that came up in the movie clip.

Vocabulario y expresiones: a list of key words and phrases, with translation in English

Transcripción: Transcription of the entire lesson

Un poco de gramática: Explanation of key grammar points highlighted in the lesson

Tareas interactivas: Online practice activities to help you learn the vocabulary and expressions

Ponte a prueba: online activities to assess your own learning

---
Este curso es una colección de 5 lecciones individuales basadas en clips de noticias y programas de televisión. Estas lecciones exploran un escándalo de la época de Franco, el patrimonio artístico y cultural de España, la repoblación de la zona rural de España, y la razón del largo día laborable de España.

Cada lección consta de:

Presentación (vídeo): El profesor/la profesora virtual explica el contexto y algunas palabras y expresiones clave, para que entiendas el clip.

Prueba rápida basada en el contenido de la presentación

Clip subtitulado en inglés

Clip subtitulado en español

Clip sin subtítulos

Conclusión (vídeo): El profesor/la profesora virtual termina la lección resumiendo palabras, expresiones y puntos de gramática que surgieron en el clip.

Vocabulario y expresiones: una lista de las palabras y frases destacadas en la lección, traducidas al inglés

Transcripción de la lección completa

Un poco de gramática: Explicación de los puntos de gramática destacados en la lección

Tareas interactivas: Actividades online que te ayudarán a memorizar el vocabulario y las expresiones


Ponte a prueba: Actividades online que te ayudarán a evaluar tu propio aprendizaje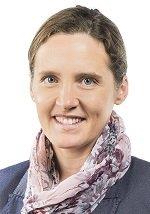 I tried the Real Spanish site and I am happy to recommend it. There is a variety of fun exercises based on interesting topics. I am a student between B1-B2 levels, and I really enjoyed it. (Alexandra, France)